Arizona's Premier Lottery Pooling Club, Since 1995
| | |
| --- | --- |
| | Who Are We? PowerPick, located in North Phoenix, offers lottery pooling services to players across the state of Arizona. It was started in 1995 by Andy and Judy Amada, who still operate the service. Thousands of happy players across Arizona now enjoy the excitement that results from sharing in hundreds more lottery tickets. |
Why Pooling? Pooling offers more chances of WINNING than any other way of playing.
Why Do Players Love Pooling with PowerPick? In addition to buying the tickets, PowerPick does all the work: We make sure that pools are always available through advertising, recruiting and player notifications. We make ordering easy through our website, assemble and secure each pool, check all tickets for winners, report the results, and distribute winnings. All you do is choose which lottery pool(s) to join.
Now in January 2019, we're the oldest and most established lottery service provider in the USA with an A+ Rating by the Better Business Bureau.
JACKPOT SCOREBOARD
Mega Millions Jackpot:
$82,000,000!
Powerball Jackpot:
$144,000,000!
The Pick Jackpot:
6,400,000!
CHECK OUR CURRENT SPECIAL OFFERS BELOW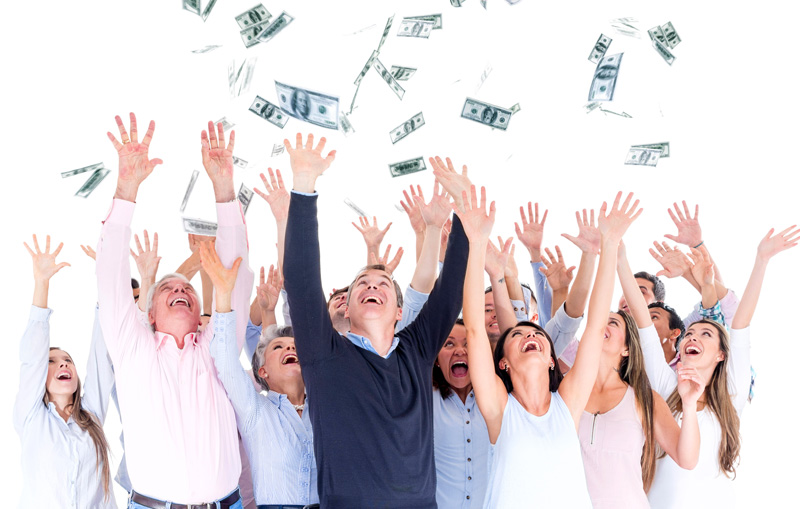 ALL Jackpot Wins are Exciting! So, to get you started we recommend any of the following 7 of our dozens of pool choices.

Special Offer
CHOOSE 3 POOLS!
Pooling offers each person the opportunity to win life-changing prizes for only pennies per ticket!
You can Order Just 1 Pool
or Order ANY 2
and Get the 3rd FREE!!
Powerball or Mega Millions
25 Tkts - Only $3.25 (group size 50)
50 Tkts - Only $5.50 (group size 50)
125 Tkts - Only $3.90 (group size 200)

The Pick
25 Tkts - Only $3.25 (group size 25)
40 Tkts - Only $5.50 (group size 20)

Fantasy 5
25 Tkts - Only $3.75 (group size 20)
25 Tkts - Only $5.75 (group size 10)
MORE INFO OR TO ORDER
Just give us a call at 602-995-9200 or 800-274-7529 or Send us an email.
Still Undecided?
FOR A LIMITED TIME
Try a Lottery Pool for FREE!
Players love our lottery pooling service and we are so sure you will too, that we are willing to let you try it for FREE. Just click here www.ezpooling.com then click on "FREE Lottery Pool Registration". You will have 14 pools to choose from.
CALL TO ORDER OR ASK ANY QUESTIONS
Statewide: 800-274-7529
Phoenix Area: 602-995-9200
Or
SEND US AN EMAIL
Through our website, you will be able to view all the lottery plays before the drawing and the results after the drawing.
There is no annual or registration fee. We offer over 100 different value selections with different group sizes, with nightly, weekly, and/or monthly play options. You can play as often, or as little as your like. Once you're registered, you can order online, or over the phone -- even by mail.
Privacy and Security. All our pools are private, anonymous and secure, meaning no one in the pool knows who the other members are, and all winnings are paid directly into each person's private player account. If you decide to order and play online, our order site is protected with the highest level of encryption and web security.
Questions? Call us during office hours at the numbers below, or Send Us an Email anytime.
Our Contact Info:
PowerPick Players' Club
8024 N. 24th Ave Suite B
Phoenix, AZ 85021
Phoenix Area: 602-995-9200
Statewide: 800-274-7529
Office Hours: M-Th, 9am - 4pm (AZ Time)
---
"I see more winning tickets this way than I ever saw playing on my own." - Terry F

"It's the Most Fun We've EVER Had Playing the Lottery!"
© 2019 PowerPick, Inc. ALL RIGHTS RESERVED.